About Us

Max Industries is a quality-centric organization that has earned huge recognition in diverse market structures. Our Ahmedabad settled company is winning hearts of numerous valued patrons because of exceptional manufacturing practices, customer-centric work approach and great financial stability. We are making our noteworthy presence felt in this competitive marketplaces from the year 2010 as a manufacturer and wholesaler.

In designing and developing matchless quality Heat Pump, Air Cool Water Chiller, Water Cool Water Chiller, Oil Chiller, Hydraulic Power Pack, Hydraulic Cylinder, All Electrical & Automation and much more, our business entity has attained specialization. In the entire city, there is no company like ours when it comes to serving Heat Pump, Hydraulic Power Packs, Portable Chiller, Air Chiller, Hydraulic Piping, Hydraulic cylinder etc., of unparalleled quality. Reason behind exceptional quality standards of our range lies in the seriousness which we maintain in keeping quality at place. Products are developed using quality-marked base materials. Prior shipment, we examine offered line on various safety and quality parameters to avoid chances of errors.
Under superior guidance of Mr. Nitesh Patel (CEO), our company is overcoming all market challenges and giving tough competition to counterparts. His ability to foresee profitable business opportunities help us in increasing business growth and clientele. Our company is excelling in this business sector not singularly as a manufacturer but service provider. Repair & Maintenance Services are offered by us.

Our Reliable Support- Infrastructure
Our business entity has found the real support in voluminous infrastructural place. A large amount of money has been invested by the owner of the company in giving infrastructure, a right modern touch. This is because customers prefer dealing with business units, which have modernly designed infrastructural space. Our spacious infrastructural facility is divided into several units like manufacturing, quality testing, administration, packaging and warehousing. All these departments are installed with requisite tools and machines. These units are well-handled by a team of great professionals who leave zero chances of errors. We keep a large stock of Water Cooled Water Chiller, Spindle Chiller, RO Water Chiller, etc., at storage space to meet bulk requirements.

Why Us?
From the year 2010, we have been toiling hard to make a renowned name in the industry. Our positive track record of successful business deals speak about our dedicated business approach. We work ethically and maintain complete transparency in business. Till date, our business hasn't received single complaint pertaining to serving inferior quality because we closely examine offered line that includes Hydraulic Oil Chiller, Water Heating Heat Pump, Swimming Pool Heat Pump, etc. Beneath mentioned are some factors behind our success:

Client-centric approach
Excellent logistic facility
Fair business practice
Highly experienced professionals
Positive record
Qualitative range of products
Timely delivery
Wide distribution network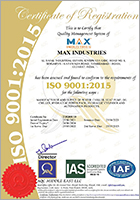 Read More